DENTURES
If you have lost most or all of your teeth, wearing dentures can be a difficult experience.  Worry about loose or painful dentures can be a drain on your patience and your health.  Dental Implant supported dentures made by a specialist in Prosthodontics can change your life!
What kind of dentist specializes in dentures?
Prosthodontists specialize in treating patients who need replacement of missing teeth and   they have at least 3 years of additional training beyond that of a general dentist. They can be expected to provide consistently high quality treatment results because of their knowledge and experience.
Are there different types of dentures?
In addition to conventional dentures which rely on suction and tongue and cheek muscles for retention, implant supported dentures can be made which are patient removable and non- removable designs.  Patient-removable designs still have the pink lip supporting flanges and provide the easiest cleaning.  Non removable denture designs have abbreviated pink flanges to provide for oral hygiene access.  Both types of implant dentures feature improved speech and chewing ability over conventional dentures.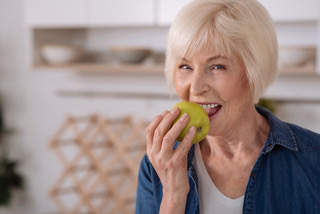 Will my new dentures look natural?
Dentures made by a specialist in prosthodontics can be expected to be very natural and lifelike and most people will not be able to tell that you don't have natural teeth. Well made dentures will replace not only your missing teeth but also the lost gum and bone structure that support your facial features.  This is why dentures can help you regain your natural appearance and give you a more youthful smile.
Since denture don't have any natural teeth to attach to, upper dentures rely on primarily suction to stay in while the lower dentures stay in with a careful balance between the tongue and the facial muscles.  Both upper and lower dentures require an adequate amount of remaining bone and tissue for stability. As most patients have the most difficulty chewing and speaking with lower dentures, two or more dental implants can make a world of difference. Dentures can be made to be retained or supported by dental implants.  These types of dentures can be either removable by the patient or non-removable. The non-removable type can be removed only by the dentist.
Are digital dentures the best kind of denture?
Machine made dentures don't have the beautiful esthetics that are typical of those made by skilled hands.  Digital dentures have become popular because laboratories can produce dentures in high volume. The best dentures are handmade by an experienced prosthodontist.
I have bad teeth, so what's the first step?
Your first step is to get an accurate diagnosis and treatment plan from a prosthodontist.  Your prosthodontist will work closely with an oral surgeon to provide you with a comfortable and pain free surgical experience.  An immediate denture can be fabricated beforehand and inserted at the surgical visit so that you will not have to go through the embarrassment of being in public without teeth.
Call: 713-464-6335
915 Gessner Road, Suite 515
Houston, TX 77024
Working Hours
Monday-Thursday 8:30am-4pm.